Premium/VIP Membership
Premium Membership
VIP Membership
Premium Membership

How to join Premium Membership?
Premium membership will be granted automatically when you purchase one of Premium packages or VIP packages.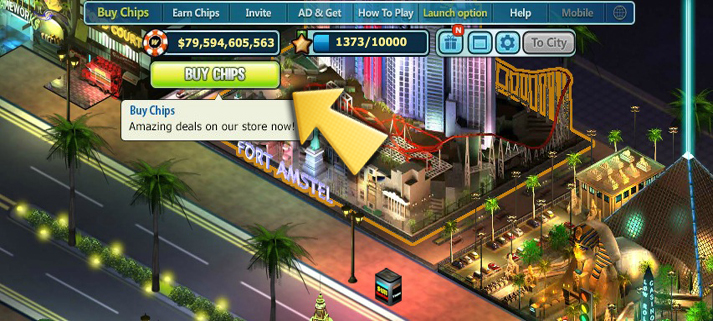 Examples of Premium Packages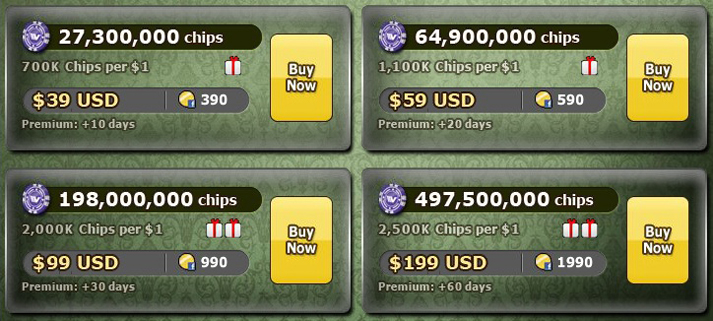 Examples of VIP Packages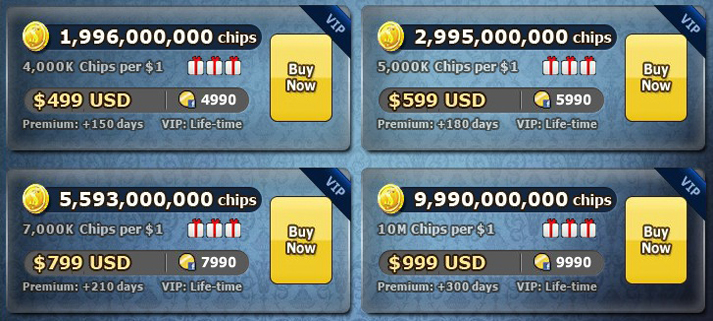 Duration of Premium Membership
Duration of Premium membership depends on what package you purchase, as shown below.

Package
Membership Day
Premium
Package
$39 package
10 days
$59 package
20 days
$99 package
30 days
$199 package
60 days
$299 package
90 days
VIP
Package
$499 package
150 days
$599 package
180 days
$799 package
210 days
$999 package
300 days
You can see the remaining period of your premium membership on either 'My Status' or loading screen. You can access 'My Status' by clicking on your profile picture at the bottom of the game screen.
MyStatus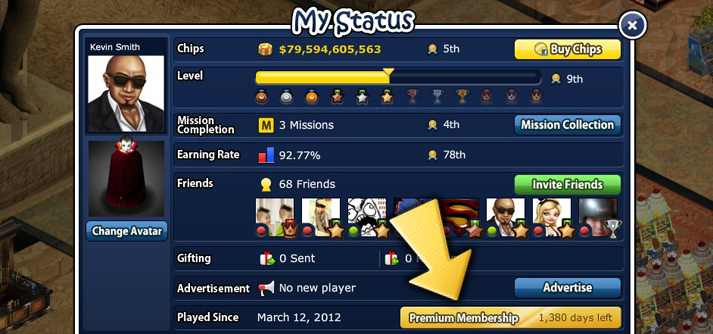 Loading Screen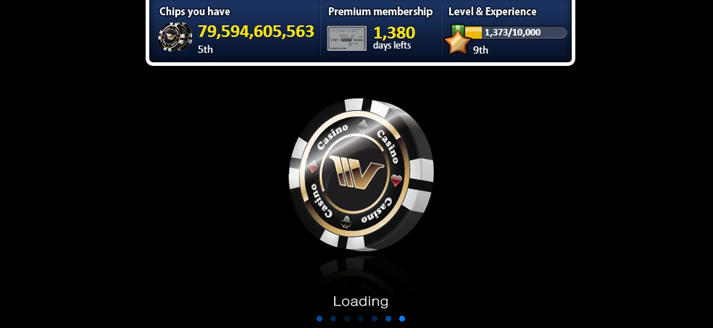 Benefits of Premium Membership
1) Lucky Wheel Bonus in every 3 hours
Premium members will get Daily Free Spin Bonus four times more frequently than non-premium members.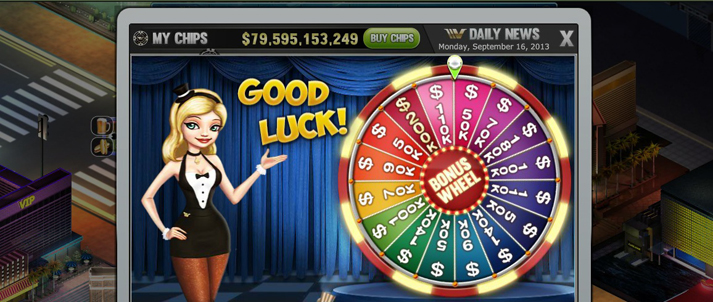 2) Daily Premium Visiting Gift
Premium members can get Daily Premium Visiting Gift by visiting DoubleU Casino. The gift is issued once for the first visit of each day, and this is limited to once every 24 hours. The amount of bonus chips can vary.

Premium Visiting Gift in Inbox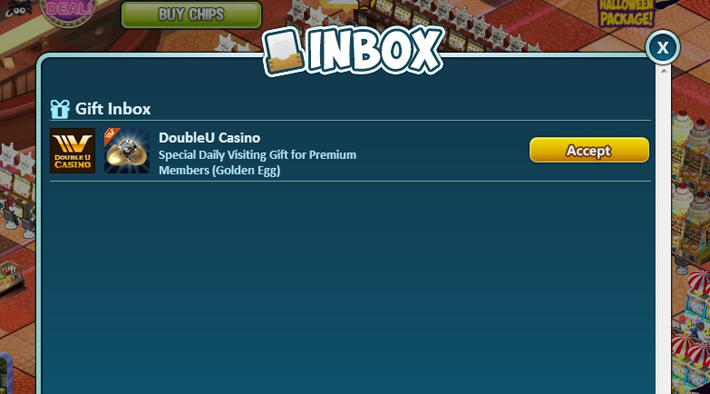 3) Weekly Premium
Premium Membership Event takes place once a week. Premium members can participate in this event by clicking on 'collect now' button at the bottom of DoubleU Daily or through the event pop-up screen.

Event Pop-up Screen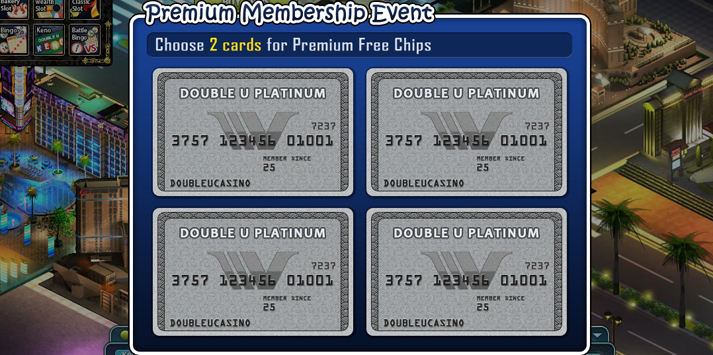 Flip the cards and claim yours!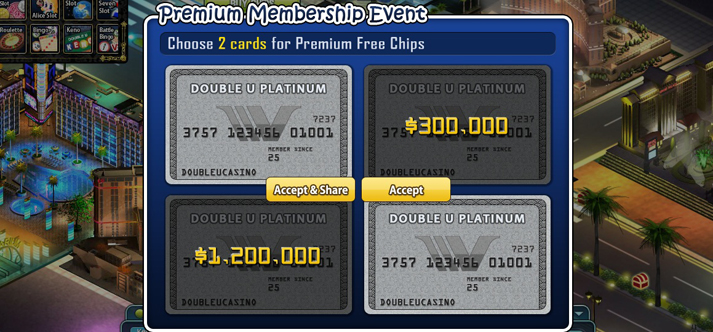 4) Special More-Chips Coupons
Special coupons are issued to premium members on a regular basis. Coupons can be applied when buying new packages. The number and rate of coupons can vary.

Examples of Special Coupons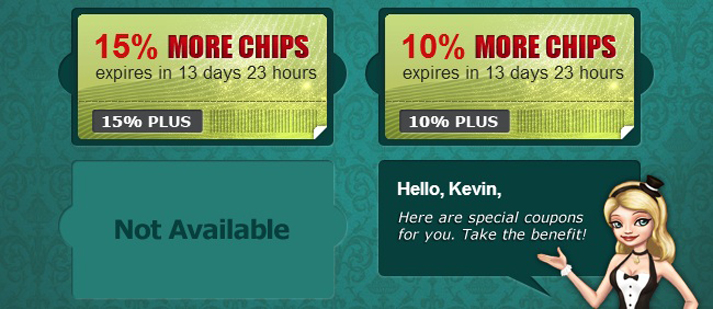 5) Admission to the VIP Lounge (so-called 'The VIP')
Premium members can enter the VIP lounge. The VIP has four different styles of rooms - 'Antique', 'Modern Party', 'Oriental', and 'High Tech'.

Exterior of the VIP

Interior of the VIP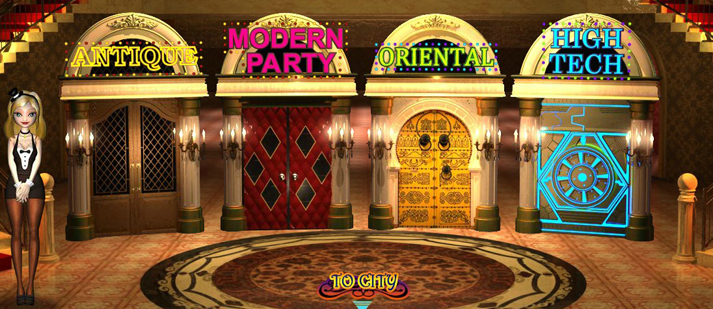 Bigger Jackpots
Mega jackpots machines are all around the lobby! Jackpots in the VIP Casino are built up much faster than those of other casinos.
Special Bonus items
Special floor bonus items of much higher price.

Personal Attendant
Personal attendant will serve you.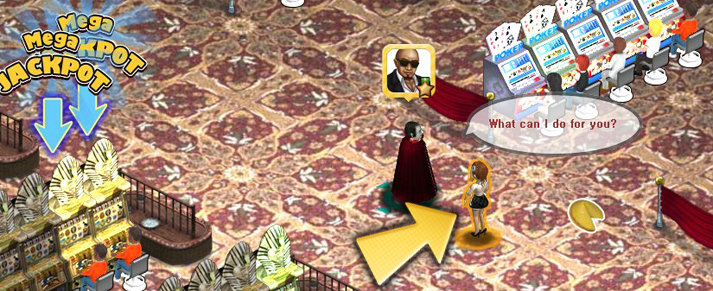 6) Premium gifting
Premium members can send premium gifts - Premium golden egg, Premium slot of fortune, and Premium scratch and win - to friends. Premium gifts usually give more bonus chips than original gifts do.

Example of Premium gifting: Premium Golden Egg in Inbox.